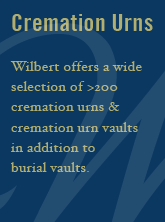 Personalization
Wilbert offers multiple ways to personalize a burial vault or urn vault with words, symbols, and images that speak of a singular spirit. Your loved one had a unique personality. The selections you make for the visitation and service should communicate that singular spirit. These choices ensure your loved one's memory is remembered for generations to come.
Casket & Urn Vaults
These interactive sessions are open to all funeral and cemetery professionals and will include information on the full line of Wilbert products including Wilbert MemoryCapsule Urn Vaults. In addition to general product knowledge, an emphasis will be placed on personalization options and the ceremonial experience when including our products in a graveside service.
Please be sure to click on the dropdown menu in order to register for your preferred date.
Friday October 30, 2015 - 1pm - 3:30pm
Tuesday November 10, 2015 - 1pm - 3:30 pm

Light refreshments will be served.

Space is limited. Click here to register now for one of these events
If you have any questions, please call Linda Stuart at 416-402-5278.

Location:
Century Concrete Products

4170 Midland Avenue, Scarborough, ON


416-293-1179

Click here to see map

Please park in South Parking Lot.
Building has a large sign across front lawn that reads "Commonwealth Brick"