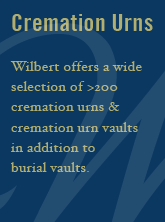 Personalization
Wilbert offers multiple ways to personalize a burial vault or urn vault with words, symbols, and images that speak of a singular spirit. Your loved one had a unique personality. The selections you make for the visitation and service should communicate that singular spirit. These choices ensure your loved one's memory is remembered for generations to come.
"It's the obligation of all Funeral Professionals to educate and assist the bereaved in commemorating life."
~ Patrick E. Lynch
Every funeral professional is in the education business. Families highly value learning about their options and find comfort in services that help them commemorate the lives of their loved ones with respect, beginning the process of healing and reconciliation.
Century Wilbert is committed to ensuring that funeral professionals have the information they need in order to confidently educate families and offer regular training sessions in our presentation centre located conveniently in Toronto.
If you would like more information or to book a training session, please Contact us. You can also check our list of Training and Events and register on-line.

Better Educated and more Engaged Families Through Video