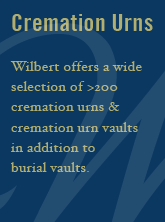 Personalization
Wilbert offers multiple ways to personalize a burial vault or urn vault with words, symbols, and images that speak of a singular spirit. Your loved one had a unique personality. The selections you make for the visitation and service should communicate that singular spirit. These choices ensure your loved one's memory is remembered for generations to come.
"One of the deep secrets of life is that all that is really worth doing is what we do for others." ~ Lewis Carroll


Our services extend far beyond simply delivering a product. In addition to Cemetery and Graveside services, we offer:

• Product information sessions at our newly designed
Training and Presentation Centre
in Toronto.
• Printed materials including our
Burial Vault Selection Guide
and custom packages designed for pre-need funeral professionals.
• Custom designed and installed
Vault Displays
created to take the guess work out of vault presentations.
• We stock a beautiful collection of
Wilbert Urns
and Jewellery and can provide you with an effective
Urn Display.