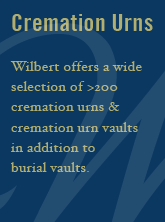 Personalization
Wilbert offers multiple ways to personalize a burial vault or urn vault with words, symbols, and images that speak of a singular spirit. Your loved one had a unique personality. The selections you make for the visitation and service should communicate that singular spirit. These choices ensure your loved one's memory is remembered for generations to come.
Our
burial vault selection guide
is just one of the many resources we have available for funeral professionals. These guides are
customized
, produced in-house and provided
free of charge
to Funeral Homes and Cemeteries who offer the Wilbert line of Burial Vaults to their familiies.
This handy and informative 2-fold guide explains the functions of a burial vault and details the various personalization options available, taking the guess work out of this important decision.
Contact us
for more information.