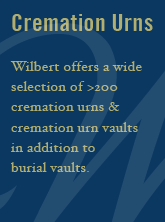 Personalization
Wilbert offers multiple ways to personalize a burial vault or urn vault with words, symbols, and images that speak of a singular spirit. Your loved one had a unique personality. The selections you make for the visitation and service should communicate that singular spirit. These choices ensure your loved one's memory is remembered for generations to come.

Beyond protecting a loved one's remains, a Wilbert urn vault can act as a time capsule that preserves cherished symbols of remembrance.
It can also serve as a beautiful, personalized centrepiece of a graveside ritual or ceremony that continues the funeral process.
Readings
, prayer and a memory table add even more depth and meaning.
Lined urn vaults give urns varying levels of protection from subsoil elements and the weight of the earth and cemetery maintenance equipment. A Wilbert urn vault is made of high-strength concrete and reinforced with durable plastic or a combination of durable plastic and metal (bronze, copper, or stainless steel).
Your funeral professional can help you select a lined urn vault that suits your style and budget.
You'd be surprised how many memories it can hold...