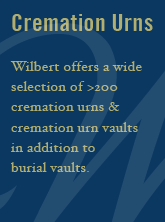 Personalization
Wilbert offers multiple ways to personalize a burial vault or urn vault with words, symbols, and images that speak of a singular spirit. Your loved one had a unique personality. The selections you make for the visitation and service should communicate that singular spirit. These choices ensure your loved one's memory is remembered for generations to come.
Where can I purchase Wilbert Burial Vaults and Wilbert Urns?

Century Wilbert is a manufacturer and wholesaler who works with funeral homes and cemeteries in Ontario. Click here to see our areas served or Contact us and we will be more than happy to help you locate your nearest funeral home or cemetery to assist you with your burial vault or cremation needs. Century Wilbert can distribute urns to funeral professionals across the country. Please contact us for more information.
What is the difference between a plastic container and a concrete burial vault?
Click here for more information on plastic vs. concrete.

Do you work with every funeral home and cemetery in your territory?

While many do, not all funeral homes and cemeteries carry the Wilbert line of products. However, a family can ask that we be the supplier of choice and most funeral homes and cemeteries will honour that request.
What are the dimensions of a burial vault?
Click here to see the inner and outer dimensions of our full line of products.
How do you manufacture a burial vault?
Click here to see how we manufacture a Wilbert Stainless Steel Triune burial vault.
Why are Wilbert burial vaults lined with plastic?
Concrete has 2 weaknesses. It is porous and even though it has great compressive strength, it has poor tensile strength. For greater strength and peace of mind, a lined vault will resist water penetration and provide greater protection against the weight of the earth and pressure of the earth above the grave and surrounding the vault. The inner bonded liner in a Wilbert burial vault will also add structural strength to resist the weight of heavy cemetery maintenance equipment such as lawnmowers and back hoes passing over the grave. Bottom line is that it protects the casket www.centurywilbert.comn the day of www.centurywilbert.com follow.

How does a vault seal? We use a product called "Butyl Tape" to seal our burial vaults (click here to see illustration)
The butyl tape seal is estimated to last between 1 and 2 BILLION years!
- Seals against water and dust intrusion
- Will not freeze or melt
- Will not loose shape
- Unbelievable long term performance
Why should I purchase a burial vault constructed of concrete?
Concrete is the ideal material for a burial vault because it continues to gain strength in the ground due to the interaction of moisture in a subsoil condition. Since there is natural moisture in soil, a concrete burial vault buried decades ago can actually have a greater compressive strength today than the day it was interred.

What happens at the cemetery?
Click here to see an illustration of the interment process.
Do your vaults have a warranty?
Crypts and Monarch - No
Monticello - 50 years
Continental - 55 years
Venetian - 65 years
Tribute - 70 years
Triunes - 75 years
Wilbert Bronze - 100 years

Click here to see a copy of our warranty.
How much do your products weigh?
From 1,900lbs for a crypt, up to 3,000lbs for a Wilbert Bronze
How strong are Wilbert Burial Vaults?
Center Load Testing Results
NCBVA Requirement - 5,000 lbs. / square foot
Monticello - 6,500 lbs.
Venetian - 13,500 lbs.
Tribute - 14,000 lbs.
Stainless Steel Triune - 17,500 lbs.
The Wilbert Bronze - 23,800 lbs
We bought a good quality casket, why do we need a burial vault?
In order to provide the casket with protection from the harsh underground environment, the weight of the earth and heavy cemetery maintenance equipment, the casket should be placed in a lined burial vault.
I'm hearing a lot about green funerals. Is using a burial vault harmful to the environment?

Concrete makes up more than 95% of the vault's construction and is produced locally from readily available materials. A Wilbert lined burial vault can actually protect the environment by preventing chemicals from escaping from the interior and seeping into the earth. It's a Natural Choice and at the same time protects your loved one by prohibiting the outside elements from getting in.