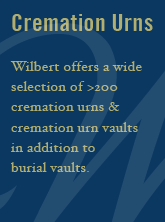 Personalization
Wilbert offers multiple ways to personalize a burial vault or urn vault with words, symbols, and images that speak of a singular spirit. Your loved one had a unique personality. The selections you make for the visitation and service should communicate that singular spirit. These choices ensure your loved one's memory is remembered for generations to come.
"I

believe

that imagination is stronger than knowledge. That myth is more potent than history. That dreams are more powerful than facts. That hope always triumphs over experience. That laughter is the only cure for grief. And I believe that love is stronger than death." - Robert Fulgham





A Brief Candle by Charlie Daniels



A brief candle; both ends burning
An endless mile; a bus wheel turning
A friend to share the lonesome times
A handshake and a sip of wine
So say it loud and let it ring
We are all a part of everything
The future, present and the past
You're free at last.


Gone from my Sight by Henry Van Dyke
I am standing upon the seashore. A ship at my side spreads her white sails to the morning breeze and

starts for the blue ocean. She is an object of beauty and strength. I stand and watch her until at length.
She hangs like a speck of white cloud just where the sea and sky come to mingle with each other.

Then someone at my side says: "There, she is gone!"

"Gone where?"

Gone from my sight. That is all. She is just as large in mast and hull and spar as she was when she left
my side and she is just as able to bear her load of living freight to her destined port.

Her diminished size is in me, not in her. And just at the moment when someone at my side says:
"There, she is gone!" there are other eyes watching her coming, and other voices ready to take up the glad shout:
"Here she comes!"

And that is dying.

Time to Fly Away by Robert Longley



To soar and float and flutter
A gentle bird I'd be
To grace the clouded mountains
Or fly over the salted sea
No more tied to substance
That makes up whom we are
It's but little bits of nature
That can fit within a jar
I am now more than all of this
I've found a new resolve
To seek the boundless universe
And it's mysteries to solve
Wish me a well journey
For it's time to fly away
I'm off to see the universe
Until we meet again someday


Epitaph by Merrit Malloy
When I die if you need to weep
Cry for your brother or sister
walking the street beside you
And when you need me, put your arms around anyone
And give them what you need to give me.
I want to leave you something
Something better than words or sounds.
Look for me in the people I've known or loved
And if you cannot give me away
At least let me live in your eyes and not your mind.
You can love me most by letting hands touch hands
By letting bodies touch bodies
And letting go of children that need to be free.
Love doesn't die, people do
So when all that's left of me is love
Give it away.


Do Not Stand at My Grave and Weep
Do not stand at my grave and weep;
I am not there. I do not sleep.
I am a thousand winds that blow.
I am the diamond glints on snow.
I am the sunlight on ripened grain.
I am the gentle, gentle autumn rain.
When you awaken in the morning's hush
I am the swift uplifting rush
Of quiet birds in circled flight.
I am the soft, soft starlight, starlight at night.
Do not stand at my grave and weep;
I am not there. I do not sleep.


You can shed tears - Author Unknown
You can shed tears that she is gone
or you can smile because she has lived.

You can close your eyes and pray that she'll come back
or you can open your eyes and see all she's left.

Your heart can be empty because you can't see her
or it can be full of the love you shared.

You can turn your back on tomorrow and live yesterday
or you can be happy for tomorrow because of yesterday.

You can remember her and only that she's gone
or you can cherish her memory and let it live on.

You can cry and close your mind, be empty and turn your back
or you can do what she'd want:
Smile, open your eyes, love and go on.

A Moment in the Sun by Robert Longley
I stepped into the sunlight
And felt a gentle breeze
A soft and wistful moment
That was echoed in the trees
Each leaf at a shimmer
Each limb a dancing pose
A moment as beautiful
As a single long stem rose
And so it is this moment
This time that we have shared
A special bond between us
Knowing that you cared
As moments fade to memory
Again the bows will bend
And a gentle breeze will remind me
Of my very special friend


Irish Blessing
May the road rise to meet you.
May the wind be always at your back.
May the sun shine warm upon your face,
And the rains fall soft upon your fields.
Until we meet again,
May God hold you in the palm of His Hand.


Prayer of Faith - Author Unknown
We trust that beyond absence there is a presence.
That beyond the pain there can be healing.
That beyond the brokenness there can be wholeness.
That beyond the anger there may be peace.
That beyond the hurting there may be forgiveness.
That beyond the silence there may be the word.
That beyond the word there may be understanding.
That through understanding there is love.


Success - Ralph Waldo Emerson
To laugh often and much;
To win the respect of intelligent people
and the affection of children;
To earn the appreciation of honest critics
and endure the betrayal of false friends;
To appreciate beauty; to find the best in others;
to leave the world a bit better,
whether by a healthy child, a garden patch
or a redeemed social condition;
To know even one life has breathed easier
because you have lived.
This is to have succeeded.


Live A Life That Matters - Author Unknown
Ready or not, some day it will all come to an end.
There will be no more sunrises, no minutes, hours, days.
All the things you collected, whether treasured or forgotten, will pass to someone else.
Your wealth, fame and temporal power will shrivel to irrelevance.
It will not matter what you owned or what you were owed.
Your grudges, resentments, frustrations, and jealousies will finally disappear.
So, too, your hopes, ambitions, plans, and to-do lists will expire.
The wins and losses that once seemed so important will fade away.
It won't matter where you came from,
or on what side of the tracks you lived.
At the end, whether you were beautiful or brilliant, male or female,
even your skin colour won't matter.
So what will matter?
How will the value of your days be measured?

What will matter is not what you bought, but what you built;
not what you got, but what you gave.
What will matter is not your success, but your significance.
What will matter is not what you learned, but what you taught.
What will matter is every act of integrity, compassion, courage or sacrifice that enriched, empowered or encouraged others.
What will matter is not your competence, but your character.
What will matter is not how many people you knew,
but how many will feel a lasting loss when you're gone.
What will matter is not your memories,
but the memories that live in those who loved you.

Living a life that matters doesn't happen by accident.
It's not a matter of circumstance but of choice.
Choose to live a life that matters.