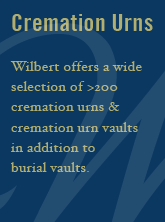 Personalization
Wilbert offers multiple ways to personalize a burial vault or urn vault with words, symbols, and images that speak of a singular spirit. Your loved one had a unique personality. The selections you make for the visitation and service should communicate that singular spirit. These choices ensure your loved one's memory is remembered for generations to come.

Q) What is the Kryprotek made of?


A) Rugged ABS (acrylonitrile butadiene styrene) plastic is the same material used in high-end burial vaults - chosen because of its ability to withstand dramatic temperature swings without becoming brittle or weak and to resist the corrosive chemicals used in the embalming process. ABS is used in many other products that have high performance demands such as protective head gear, automotive parts, kayaks, golf club heads and Thule® car racks.
Q) How is Kryprotek shipped?
A) Kryprotek can be stacked in pallets of 5-25 units, with several hundred fitting on a flat bed truck.
Q) How are these stored?
A) While they can be stored long-term in pallet form, Kryprotek is the only unit on the market that can be assembled and pre-insalled in the mausoleum - weeks, months or years before entombment. Not only does this minimize required storage space, it can signficantly reduce your labor costs by allowing you to assemble and install several units during off hours.
Q) How does the Kryprotek control odors & insects?
A) The air-tight, water-tight Kryprotek is equipped with a spring-loaded one-way valve that allows gasses generated by decomposition to be released without allowing insects or vermin in. This valve is stratgically located at the top of the rear end cap facilitating the transition of the gasses into the mausoleums own internal ventillation system.
Q) How do you know the product works?
A) First conceived over 20 years ago, there is an installed base of over 20,000 Kryproteks that have met or exceeded the expectations of mausoleum managers that purchased them. Over two decades, the product has proven to be simply the best option available.