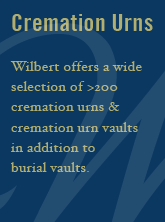 Personalization
Wilbert offers multiple ways to personalize a burial vault or urn vault with words, symbols, and images that speak of a singular spirit. Your loved one had a unique personality. The selections you make for the visitation and service should communicate that singular spirit. These choices ensure your loved one's memory is remembered for generations to come.


The Durability of Concrete
Built more than 1800 years ago in Rome, The Pantheon - with the world's largest freestanding concrete dome - still testifies to concrete's durability and strength.

Designed To Last
There's no mystery as to why concrete has been the standard of excellence in burial vaults for more than 100 years. Its durability is proven. With rigid character that doesn't stretch, warp or buckle under intense weight or pressure, concrete can withstand the weight of the heaviest cemetery equipment, maintaining casket integrity.
In fact, for centuries, concrete's resilience has proven itself in everything from The Pantheon to Roman aqueducts, some of which are still in use today. It's the material of choice where rigidity and durability are key. That's why we insist on it in our burial vaults, to protect every family's loved one ... and to provide the strength and durability cemeteries are fneral homes depend on.
Our concrete burial vaults are specifically designed to withstand heavy loads. Non-concrete burial vaults can fail, compromising the casket and creting unsightly - even dangerous - depressions in cemetery grounds.
The Truth About Plastic
Truth is, molded plastics are flexible and not well suited for load-bearing structures. Plastics are viscoelastic materials, meaning that they deform under stress or pressure and over a period of time, the material reaches its elastic limit and fails. The modulus of elasticity (ratio of stress to strain) is used to predict the elongation or compression of a material without failing. The modulus of elasticity of concrete is approximately 10 times higher than plastic.
When it comes to strength, remember that unreinforced plastic surfaces can buckle under linear compressive loads.
The Assurance of Concrete
When highway engineers need to be assured that lives are protected, they rely on concrete for structural integrity.
Peace of Mind
That's what families want.www.centurywilbert.comrt.comy Professionals need it too.

One of the things you need to worry about is a damaged plot or burial container. This not only distresses the family, it can lead to costly litigation. That's why concrete offers so much assurance. Unlike plastic, fiberglass or steel, concrete is heavy, dense and can weigh tup to 10 times more. Which means concrete vaults tend to stay submerged within a wet grave.

The unthinkable isn't impossible. But with concrete, it's much less likely. And that's peace of mind for everyone.
The Truth about Plastic
It's simple physics. The density of concrete is approximately 24 times greater than that of plastic, or in other words, plastic is more buoyant that concrete. When equal in dimensions, a plastic vessel will float in far less water than a heavier concrete one.

WEIGHT MATTERS! It takes less than 2.5 inches of water to float a 36"x86" container weighing 250 pounds. It takes more than 20 inches of water to float a 36"x86" container weighting 2,400 pounds.

The Beauty of Concrete
Frank Lloyd Wright pioneered the use of concrete as an art form, as showcases by his design for the Guggenheim Museum, completed in 1959 in New York City.
The Art of Strength
Concrete's durability is rivaled by its beauty. In the hands of our master craftsmen, it is meticulously shaped and expertly finished to reflect the dignity that a loved one's life deserves.
From the Wilbert Bronze, which is triple-reinforced, to our basic Monticello model, every one of our burial vaults has that handcrafted finesse that sets it apart. The final moments of a loved one are personal and important. We have a wide range of personalization choices that can't be matched.
Built to last and protect, Wilbert burial vaults are beautifully designed to elegantly memorialize a loved ones unforgettable presence.
The Truth about Personalization
We believe non-concrete containers lack the beautiful, handcrafted personalization options that concrete burial vaults offer. From endless colour choices and finishes to custom photographic collages, framed pictures and raised emblems, only concrete can deliver truly one-of-a-kind personalization to capture the essence of a loved one.