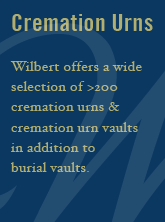 Personalization
Wilbert offers multiple ways to personalize a burial vault or urn vault with words, symbols, and images that speak of a singular spirit. Your loved one had a unique personality. The selections you make for the visitation and service should communicate that singular spirit. These choices ensure your loved one's memory is remembered for generations to come.
2012 OACFP Charity Golf Day
... planting seeds of hope


This year, 116 good-hearted golfers joined us on June 4th at Meadowbrook Golf & Country Club in Gormley for a fabulous day of great golf and fun. Despite cloudy skies and a little chill in the air, we were grateful that the weather co-operated and the rain held off this year. We thoroughly enjoyed spending the day at Meadowbrook and send out heartfelt thanks to the staff for their generous hospitality. We are looking forward to many more successful tournaments at this fantastic club.
Thanks to golfers, sponsors, gift donors and volunteers, we surpassed our lofty goal and are thrilled to announce that a whopping $26,000 was raised for The Unforgettables, Toronto Chapter! Extra special thanks are extended to our premium sponsors; Arbor Memorial, Audi Midtown Toronto, Cardinal Funeral Homes, Century Wilbert, Fabhaven, Guaranteed Funeral Deposits, Matthews and Stone Orchard Software. Every dollar raised makes a difference and goes directly to families and absolutely no funds are used for administrative purposes.
The "Unforgettable Friend" award was presented to Daniel Reid, recognizing his dedication, compassion and kindness in supporting the Unforgettables, Toronto Chapter for many years. Daniel continues to volunteer his time and heart to this wonderful cause and we are extremely grateful for all he does.
This year we were honoured to have Dr. Van Arsdell join us for dinner and he said a few inspiring words for us at the podium. He is in awe of how we have come together as an industry for this cause and is tremendously proud and thankful to be affiliated with such a passionate group of individuals who care so much about families who are faced with the unthinkable.
Volunteers are the heart of our event and we would like to sincerely thank those who came out to help. You are the glue that holds this event together and we could not do it without you! Please know how important your contribution of time was and that your generosity is truly appreciated.
Finally, thank you to my golf committee who, this year especially, excelled in making the day one to remember: David Roseborough, Donna DiBiase, Ken Munday, Steve Rupert, Richard Verrier, Rob Villeneuve and of course, Jo-Anne Rogerson.
All in all, thanks to all who participated and contributed, we had a fabulous, uplifting day. And while it is encouraging that we continue to raise more and more money every year for The Unforgettables Fund, the success of this event is not simply determined by the dollar amount raised. The seeds of hope that have been planted due to the generosity of others enables our garden of hope to continue growing, providing comfort for families who need to know that their child will not be forgotten.
Click here for more information or to make a donation.

by Linda Stuart
Chair, 2012 OACFP Charity Golf Day