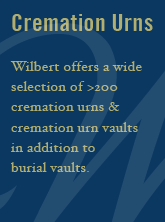 Personalization
Wilbert offers multiple ways to personalize a burial vault or urn vault with words, symbols, and images that speak of a singular spirit. Your loved one had a unique personality. The selections you make for the visitation and service should communicate that singular spirit. These choices ensure your loved one's memory is remembered for generations to come.
Century Wilbert Testimonials


"The Management and Staff at Century Concrete are great partners in our efforts to serve families and meet their every need. We can rely on their professionalism, timeliness and commitment to service to make it is as seamless for the families as possible. We have a confidence in the product that allows our families to have a confidence in their selection."
Bradley E. Scott, General Manager
R.S. Kane Funeral Home

"Century Concrete have long served the funeral professionals and families of Central Ontario. Their innovative products along with tremendous service have made them leaders in burial products. We proudly present their quality offerings in many of our locations."

Terry Eccles, Regional Director
Arbor Memorial Services


"I just wanted to pass on my thanks for the wonderful job you did on my mom's vault. It was a beautiful tribute to her and we very much appreciate your efforts. My family and I would also like you to know that if you would like to use hers as a sample we would be more than happy to allow this."
Julie Brett