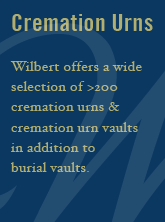 Personalization
Wilbert offers multiple ways to personalize a burial vault or urn vault with words, symbols, and images that speak of a singular spirit. Your loved one had a unique personality. The selections you make for the visitation and service should communicate that singular spirit. These choices ensure your loved one's memory is remembered for generations to come.

Originally located in Leaside, Century Concrete Vault was formed in 1928.
In 1953, the company's offerings expanded to include concrete blocks and the name was changed to Century Concrete Products.

Martin Stuart purchased the business in 1967. In his quest to produce the finest quality burial vaults in the industry, he became a Wilbert licensee in 1973 and Century Wilbert was born.
In 2016 with Martin having been at the helm for almost 50 years, he then sold the company to Peter Ntakos. Peter has 30 years experience in the building trade and has successfully grown his company, Kreitmaker, by providing high quality products and reliable customer service.



Currently, our facilities are located on 7 acres in Toronto, Ontario with over 40,000 square feet of office, warehouse and manufacturing space.