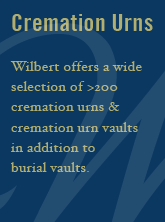 Personalization
Wilbert offers multiple ways to personalize a burial vault or urn vault with words, symbols, and images that speak of a singular spirit. Your loved one had a unique personality. The selections you make for the visitation and service should communicate that singular spirit. These choices ensure your loved one's memory is remembered for generations to come.
That man is a success...
Who has lived well,
Laughed often and loved much
Who has gained the respect of intelligent men and women
And the love of children
Who has filled his niche and accomplished his tasks
Who leaves the world better than he found it
Who never lacked appreciation of Earth's beauty
Or failed to express it
Who looked for the best in others
And gave the very best he had

And that man, was Joey.
I am very fortunate to have watched Joey grow from the boy he was when we first met, to the man, who in the end, defined success.
He was 19 when he started working for me. He left for a few years to "go fishing" or something like that, but he came back and we were glad he did. All in all, Joey probably spent the better part of 8,000 days at Century Concrete.
He was commonly referred to as a "Good Guy." In fact, when I first met him, I knew right away that he would be one of the "good guys." And as I look around the room, and see the number of his colleagues here, obviously I was not the only one who felt this way.

In the 31 years I've known him, I can honestly say I have never heard anyone say anything negative about him.

He taught us that in life, the winners always think in terms of "I Can" "I Will" and "I Am." He was very hands-on with a "can do" attitude. He loved a challenge - in fact, I never once heard him say "I can't do that." He would tackle anything and no problem was too big. Always willing to go the extra mile, he never wanted to see the company in a tough spot. Even when he was really ill he still wanted to make a contribution and got upset when he could not give 100%.

His was very loyal. He cared about the company and he cared about me.

He was a patient man but that's not to say he never got mad, because he did. Mostly when the block machine wasn't working properly and he didn't feel he was being productive enough. You could always tell when he was having a bad day – the newfie accent would come out in full force, his voice would go up an octave or two and even his own Uncle Big Frank would have difficulty understanding what he was saying!

They say that laughter is the only cure for grief and I think that Joey would agree with that. He loved to laugh and his sense of humour was one of his most endearing qualities that was enjoyed by everyone he came in contact with. You never walked away from Joey without a smile or a giggle. The lunch-room will not be the same without his quick wit and banter, especially between him and Alex, his "Best Russian Friend" as Alex used to say.

Even those of us who have lived through a war don't really know what it's like to fight a battle until we hear the words, "you have cancer." This news could have crippled Joey, but it didn't. His attitude, his humour, his work ethic all remained intact and even when he had a pretty good excuse to slow down, he didn't. He came to work every day and gave the very best he had. He sat in the lunchroom and made fun of the guys, made fun of himself and continued to live his life to the fullest. There was no complaining, no "why me". And while we all admired him for his bravery, he wanted no part of special treatment.

And so I go back to what we can all learn from Joey.
Live well, laugh often and love much. Earn respect. Find your place. Accomplish your tasks. Look for the best in others and give the best you have.

I am honoured that Joey chose to spend 8,000 days of his life with us at Century. He gave the very best he had and we are all better people for knowing him.

He was a big part of Century and we will all miss him dearly.