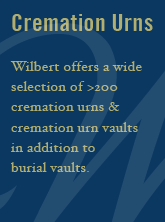 Personalization
Wilbert offers multiple ways to personalize a burial vault or urn vault with words, symbols, and images that speak of a singular spirit. Your loved one had a unique personality. The selections you make for the visitation and service should communicate that singular spirit. These choices ensure your loved one's memory is remembered for generations to come.

Century Wilbert offers many ways to personalize a burial vault with words, verses and images.

Century Legacy images add color, depth, and heart-stirring grace to the covers of the Triune® series and Tribute burial vaults. When applied to the carapace, each of the available scenes creates the illusion of being printed directly on the cover.

Emblems
and Namplates are available on our complete line of burial vaults.

Custom Vault Colour
is
available at a nominal extra charge. Please allow for extra time and contact us for more information.
Personalization Plus
images allows families to personalize a Venetian, Tribute or Triune series burial vault. The image is appli
ed to the vault cover for a dignified display at the graveside service.




Custom images
are also available. Please contact us for more information.