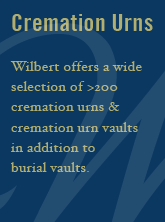 Personalization
Wilbert offers multiple ways to personalize a burial vault or urn vault with words, symbols, and images that speak of a singular spirit. Your loved one had a unique personality. The selections you make for the visitation and service should communicate that singular spirit. These choices ensure your loved one's memory is remembered for generations to come.
Every life deserves to be celebrated, and celebrated well.

When someone you love has died, it can be difficult to celebrate their life, but a meaningful and heartfelt funeral can be a valuable source of healing.

A funeral has many purposes. The ceremony is a time for reflection and remembrance as well as helps us come to terms with the reality of death. It provides a safe and supportive environment to freely express grief, gives us a chance to say goodbye but most importantly, provides hope for the living.

Including eulogies, poems, music and rituals will help to capture the essence of your loved one in a personal and meaningful way. It's important to also consider your faith's religious practices or perhaps a celebrant would be more flexible and able to accommodate your spiritual needs.
Pre-planning your funeral can be one of the most thoughtful gifts you can give your family and friends. It also ensures that your wishes are fulfilled and your family is not left with difficult decisions at the time of your death.