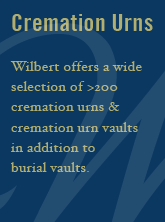 Personalization
Wilbert offers multiple ways to personalize a burial vault or urn vault with words, symbols, and images that speak of a singular spirit. Your loved one had a unique personality. The selections you make for the visitation and service should communicate that singular spirit. These choices ensure your loved one's memory is remembered for generations to come.
We are proud to be the Canadian Distributor for the new and improved Kryprotek® ABS Mausoleum Enclosure, the finest enclosure for mausoleum preservation on the market today.

Kryprotek® is the finest containment system available for mausoleum protection.
Over the past 20 years, tens of thousands of Kryproteks® have kept mausoleums around the country clean, dry, odor-free, and insect-free.
Protect yourself from inevitable problems that can effect crypt sales.
We invite you to experience the value of Kryprotek®:
*Peace of mind - for you, your employees, and the families you serve
*Dignified presentation - quick, clean, simple
*Economic Benefits - reduce labor costs, generate revenue.
Kryprotek Key Features