Personalization
Wilbert offers multiple ways to personalize a burial vault or urn vault with words, symbols, and images that speak of a singular spirit. Your loved one had a unique personality. The selections you make for the visitation and service should communicate that singular spirit. These choices ensure your loved one's memory is remembered for generations to come.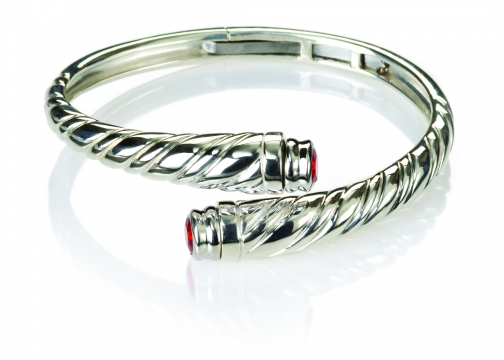 Eternal Embrace Sterling Silver Cremation Bracelet
This stunning bypass-style sterling silver bracelet makes a wonderful remembrance of a loved one. The two bypassing arms of the bracelet are hinged at the bottom for a comfortable fit. When worn each side embraces the wrist and culminate with an end cap in your choice of any of 12 simulated birthstones; black cabochon, polished sterling silver; or one of four end caps of pavé CZs and simulated ruby, simulated sapphire, simulated emerald or cubic zirconium. The area revealed by the open end caps can hold a lock of hair or small portion of cremated remains.
Item #: D5040 (regular); D5041 (large)